A government minister in the United Kingdom is under fire for publicly airing her grievances with a reporter, saying the journalist was sowing "confusion and mistrust" by asking why she did not appear in a video campaign promoting the COVID-19 vaccine in Black communities. 
Kemi Badenoch, a member of Parliament who serves as the Conservative government's equalities minister, sent a series of tweets Friday accusing Nadine White, a reporter for HuffPost UK, of "looking to sow distrust by making up claims I refused to take part in a video campaign."
(HuffPost UK is separate from HuffPost's U.S. edition and maintains separate day-to-day editorial functions.) 
It's "creepy and bizarre to fixate on who didn't participate in a video," Badenoch said, including screenshots of the emails White sent her.
In the emails, White — who leads HuffPost UK's race coverage — asked Badenoch to respond to claims that Badenoch "refused to participate in the video."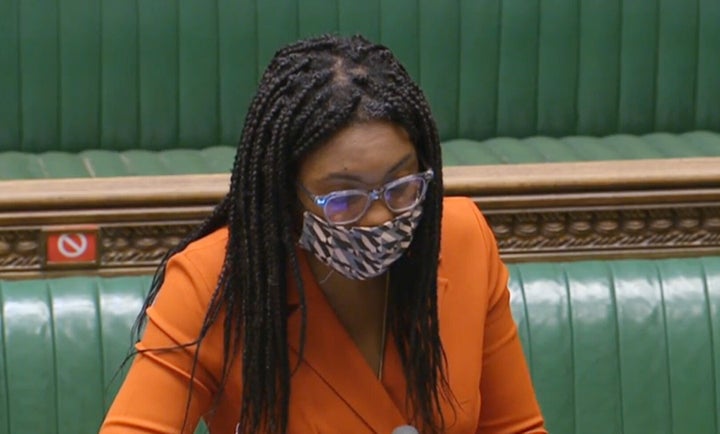 Badenoch, who has started spats with journalists in the past, went so far as to claim White and HuffPost UK were "quite happy to undermine our efforts to build trust in the vaccine by making absurd claims," though White was still waiting for a response from Badenoch and had not yet published a story on the issue.
White told HuffPost U.S. that Badenoch's tweets have left her dealing with so much online harassment that she has had to take steps to protect herself. 
"Instead of responding to my email, the minister for equalities publicly targeted me on Twitter with erroneous allegations and initiated a pile-on. As a result of abuse from far-right trolls, I've been forced to switch my public profile to private in order to preserve my mental health," she said.
It's alarming, White added, that an equalities minister would choose "to react in such an inflammatory, deeply inappropriate way towards a journalist asking her a simple question."
Badenoch did not immediately return HuffPost's request for comment.
HuffPost UK editor-in-chief Jess Brammar responded directly to the minister's tweet thread, contradicting Badenoch's assertion that White's questions were a "sad insight into how some journalists operate."
"The correspondence you have published here shows the opposite of spreading disinformation – as you know, it is correct and standard practice for journalists to check facts and approach people in public office for comment," Brammar wrote.
HuffPost UK has filed a formal complaint about Badenoch's conduct with Cabinet Office Permanent Secretary Alex Chisholm.
"We would like the minister to withdraw her defamatory allegations that HuffPost or Nadine White were 'looking to sow distrust' or to 'undermine efforts to build trust in the vaccine', and publicly apologise for suggesting this was the case," Brammar wrote. "It is extremely worrying to me as an editor that a government minister could respond in this way to a totally standard request for comment on a story."
HuffPost UK has not yet received a response to the complaint. 
Labour MP Dawn Butler also came to White's defense, saying she "asked a simple question all you had to do was answer her. Now she's been subjected to vile abuse."
Calling all HuffPost superfans!
Sign up for membership to become a founding member and help shape HuffPost's next chapter