NEW YORK — The NBA announced that a player on the Utah Jazz has preliminarily tested positive for COVID-19.  The test result was reported shortly prior to the tip-off of tonight's game between the Jazz and Oklahoma City Thunder at Chesapeake Energy Arena.  At that time, tonight's game was canceled.  The affected player was not in the arena.
 
The NBA is suspending game play following the conclusion of tonight's schedule of games until further notice.  The NBA will use this hiatus to determine next steps for moving forward in regard to the coronavirus pandemic. 
It's been a surreal night if you've been following what happened in Oklahoma City.
The Thunder and Jazz were just about to tip off when a trainer reportedly came running onto the floor, spoke with the officials, and then the players were ushered off the court. Shortly thereafter, fans were informed the game was being postponed. Lots of speculation followed, particularly because Utah Jazz center Rudy Gobert has been ill.
Now we know it really was what people were speculating about, and this is all just too crazy:
Utah Jazz All-Star Rudy Gobert has tested positive for coronavirus, sources tell @TheAthleticNBA @Stadium.

Sources say Gobert is feeling good, strong and stable — and was feeling strong enough to play tonight.27.7K8:27 PM – Mar 11, 2020Twitter Ads info and privacy21.7K people are talking about this

Kirk Goldsberry✔@kirkgoldsberry
"No player has left the arena yet. From what we understand right now, the players are being – I don't know if I want to call it 'held' – behind those double doors, but they are not leaving, a lot of them are confused as to why they aren't leaving the arena yet."@royceyoung on SC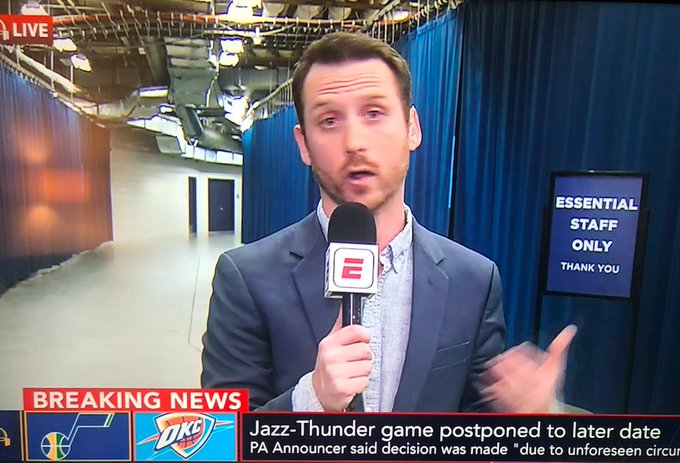 1148:22 PM – Mar 11, 2020Twitter Ads info and privacy48 people are talking about this
The NBA responded immediately and extremely:
The NBA has suspended the season.93.7K8:31 PM – Mar 11, 2020Twitter Ads info and privacy75.8K people are talking about this
We'll get into the fallout as soon as we know more.